Latest PAS Report
Planning for Autonomous Mobility
The latest PAS Report explores the opportunities and challenges autonomous vehicle technology will bring and gives planners a roadmap for action to harness the transformative power of AVs for the benefit of their communities.
Planning Magazine
Each month, APA's member magazine shows how innovative planning programs and techniques are reshaping America's communities.
Members and Subscribers
---
Journal of the American Planning Association
Since 1935, the quarterly Journal of the American Planning Association has published research, commentaries, and book reviews useful to practicing planners, scholars, students, policy makers, and others interested in the planning profession.
About This Issue
JAPA Subscribers
PAS Reports
APA's Planning Advisory Service published its first Information Report in 1949. Each quarterly PAS Report provides authoritative guidance on current issues and innovative practices in the field of planning.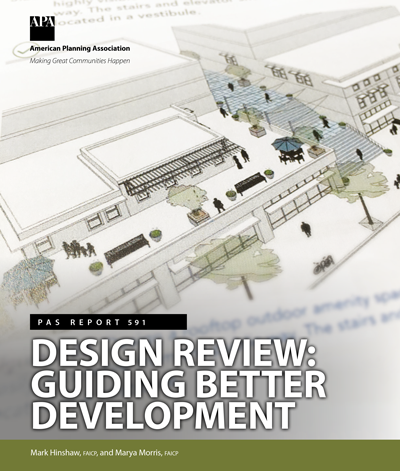 PAS Report 591
Design review helps to ensure that both existing and new development can work together to create vibrant, dynamic, and appealing places to live and work.
Zoning Practice
Zoning Practice helps guide you as you write and administer smart development codes.
The Commissioner
The Commissioner is full of features and practical tips that will help you make critical decisions in the best interest of your community.
Interact
Interact is APA's award-winning e-newsletter for APA members.
Books
Planners Press, an imprint of the American Planning Association, has now joined Routledge, a member of Taylor & Francis Group.